How much physical activity do you need?
As we celebrate American Heart month this February, we cannot forget about the ways we can incorporate more movement and physical activity into our busy lifestyles. Being active helps your heart muscles stay strong and healthy.
The American Heart Association suggests getting about 150 minutes per week of moderate-intensity activity a week. That's about 21 minutes a day. And that doesn't mean you have to do it all at once. It is ok to spread that 20 minutes into 5 minutes here, and 8 minutes there, throughout your day. The important thing is to get your heart rate up.
Gym? What gym?
Getting in those 150 minutes can seem like a daunting task. Especially if you think you need to go to a gym. While having access to a wide variety of cardio and strength training equipment is ideal, we know the gym isn't for everyone. Here are 7 ways to boost your activity level – no gym needed: 
Grab the leash and walk your dog. Your body — and your pooch — will thank you!
Take your kid (or your spouse) for a walk. It's an excellent way to get some face time without screens. Keep it fun by exploring new neighborhoods or turning your walk into a scavenger hunt.
Hit the mall. Are you shivering (or sweating) at the idea of walking outside? Take a fast stroll around the mall instead. Window shop, people watch and get active in a climate-controlled environment.
Walk and talk. Even if you're glued to your phone for work calls, you don't have to be glued to your chair. Make it a habit to talk and walk. Some workplaces have walking paths to make it even easier to burn while you earn.
Tune into fitness. Retrain your inner couch potato. Walk or jog in place, do yoga or lift weights, or walk on the treadmill at the gym while you watch your must-see TV shows.
Ditch the car. Spare yourself the parking stress and log some more active time by parking farther away (or even leaving the car at home) and walking or biking to your destination.
Take the stairs. The elevator may go up — but it doesn't make your heart rate climb. Take the stairs when you can, even if just for a floor or two. And don't ride the escalator – climb it. Those can be active steps, too!
In addition, check out the circuit workout image below for ways to create your own workout at home.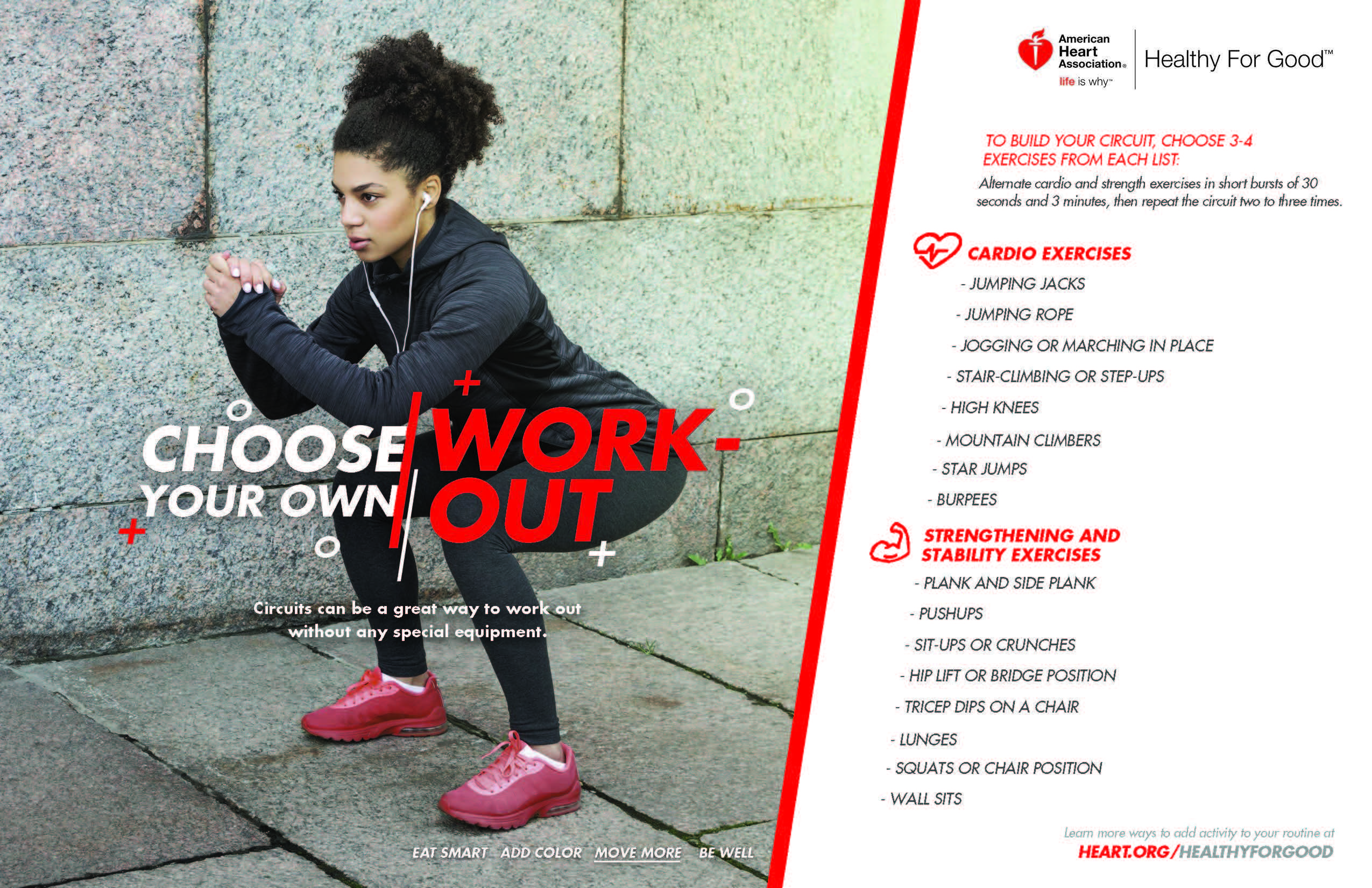 Feel the benefits
There have been numerous studies linking regular, physical activity with better sleep, memory, balance and cognitive ability. In addition, you are making your heart very happy by reducing your risk for weight gain and chronic disease. Think of exercise, or moderate activity, as an insurance plan for your heart health. As a side note, if you are looking for ways to lose weight with some help from a professional, Firelands Regional Medical Center offers a weight management program at our main campus. 
Firelands has heart
The Heart Center at Firelands Regional Medical Center offers a broad range of advanced cardiac testing and procedures from experienced heart doctors. Our highly skilled team of cardiologists, cardiac surgeons and healthcare professionals is trained in the most advanced technologies available for the prevention and treatment of heart disease. In addition, the Firelands Heart Center is accredited in heart failure, and is an American Heart Association Mission: Lifeline Receiving center, as well as a certified chest pain center. To learn more visit: firelands.com/heart